Always something greater.
We are part of something greater than ourselves. It has defined us for more than a century and brought us to this moment on the Mesa and to the For Cate and Forever campaign. As Cate's most ambitious campaign, it's already fundamentally changing our School and will continue to do so for generations to come. Three priorities are guiding our efforts:
Create an academic center that will be the heart of learning and inquiry at Cate.
Promote community and sustainability through significant campus improvements.
Provide access to ensure Cate can enroll exceptional students of promise and create an equitable experience for them regardless of their means.
While we have made noteworthy progress, there is work to be done to reach our goal. Cate has always been a community that relies on the many, not the few. We invite you to join the effort, For Cate and Forever. Together we have made Cate a place of exceptional learning. Together, let's reach new heights.
Three priorities. A singular goal.
The For Cate and Forever campaign will both impact Cate today and meet the needs of tomorrow's students and faculty. While there are a wide range of priorities, all focus on ensuring Cate sets the standard for residential education and supporting students who will impact the larger world.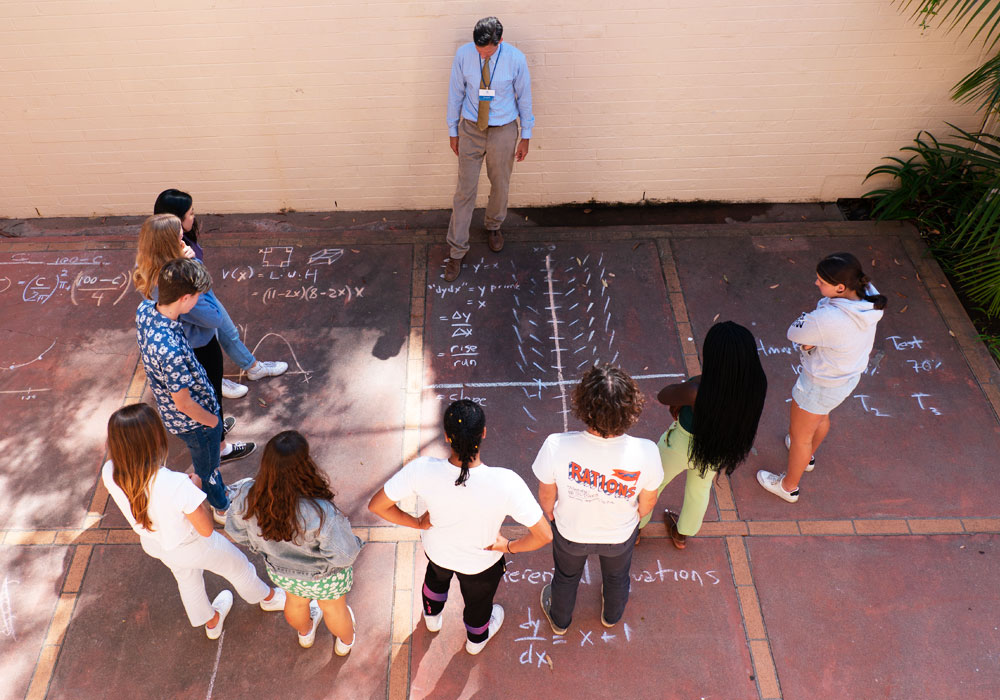 INQUIRY
Reimagining the Mesa with Cate's new academic hub

Cate's innovative, inquiry-based curriculum is designed to challenge, inspire, and support a diverse cohort of exceptional students. It is clear that inquiry-based learning demands new physical spaces. That is why we are reimagining the Mesa with the building of the Inquiry Collaborative, Cate's new academic hub for learning, innovation, and exploration. Learning to ask the right questions is at the heart of Cate's inquiry process, enabling students to become the architects of their own learning.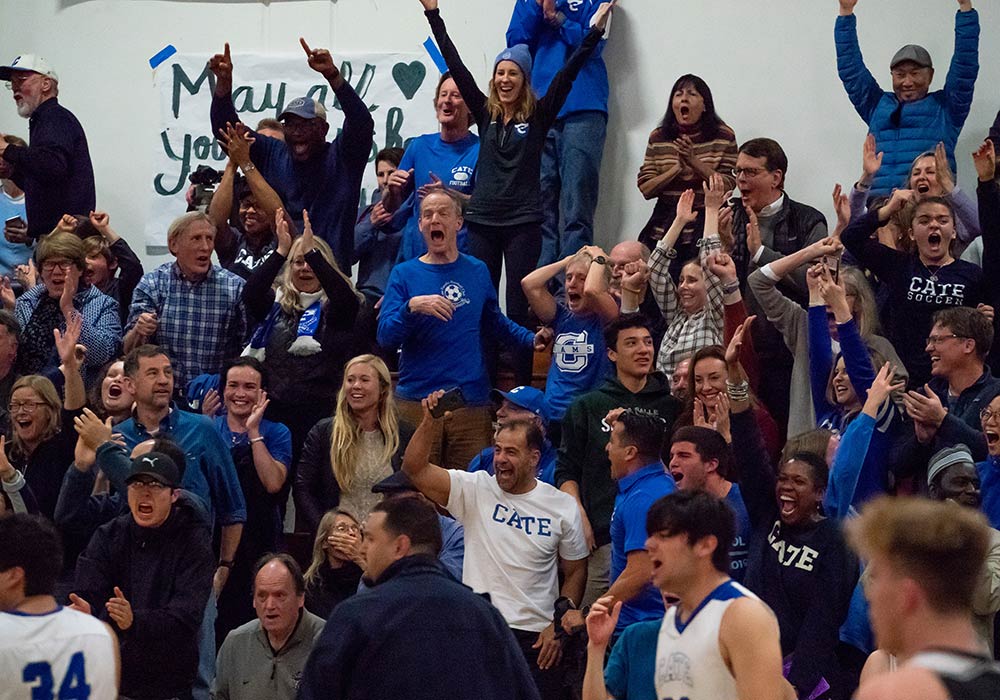 COMMUNITY
Investing in the Spirit of this Place

Investing in community will bring Cate students together through facilities and resources designed to compel engagement, sustainability, and learning—together they'll provide impact far beyond the Mesa. With supportive health and wellness services and resources for an environment that perfects the balanced combination of academics and the outdoors, athletics and the arts, and diversity, equity, and inclusion, the Mesa can become a place where all are welcome and valued, and students and faculty can achieve the greatest growth possible.
ACCESS
Leveling the playing field

Through affordability, equity, teaching, and learning, Cate will ensure all students experience the benefits of an environment that offers a true sense of belonging. Beyond students, faculty will benefit from an increase in the endowment to advance their teaching methodology and reward exceptional performance. All efforts will result in a more equitable and diverse education and student body.
Ambitious. Thoughtful.
And focused on the extraordinary.
The For Cate and Forever campaign touches virtually every area of the Mesa and community. We invite you to learn more about our vision, what's been accomplished, and the exciting opportunities that lie ahead. For those who haven't been on the Mesa recently, the map below will help you get your bearings and see the campaign's impact.
Capital Projects
The culminating project for the campaign is the Inquiry Collaborative, the academic hub for innovation and creativity
Capital construction and renovation projects have revitalized the campus and are making profound improvements to enhance living and learning across the Mesa. Otis Booth Dining Commons and Student Center, the E. L. Wiegand Center for Performing Arts, and the Class of 1981 Amphitheater have created a new apex for campus life. An upgraded track and field, a combined health and wellness house, and a commitment to creating and maintaining spaces that facilitate indoor and outdoor inquiry through capital enhancements will enliven the student experience.
The culminating project of the For Cate and Forever campaign is the Inquiry Collaborative – an academic hub that complements the dynamic inquiry-based program Cate has built through the decades. The building will feature hands-on studios, labs, and classrooms and preservation of the historic McIntosh Room alongside Student Services offices and a dynamic library with Pacific ocean views.
The Inquiry Collaborative is the place students will go to seek answers, whether creative, interpersonal, interdisciplinary, or research-based. It will be the manifestation of "explore before explain."
Cate Fund
The Cate Fund is our annual giving program. Contributions – of every amount – provide needed flexibility in support of the annual operating budget. Fueled by devoted alumni, parents, and friends, this unrestricted fund provides approximately 10% of the School's operating budget, allowing Cate to respond to changing needs throughout the year.
Endowment
Today, nearly 30% of our student body receives financial aid, helping to make a Cate education accessible to many deserving students who otherwise couldn't afford to attend. The endowment will help close the acceptance rate gap between those who need financial aid and those who do not. Additionally, faculty endowments provide the necessary funding to advance pedagogy and provide professional development opportunities. Finally, to prepare students for a changing world, we teach critical skills through innovative curricula. The endowment will fund initiatives like computational thinking, cross-curricular course design, and distinguished speakers to inform and enhance the student experience.
cate legacy society
Including Cate School in your estate planning is an effective and creative way to build lasting support for the School. These gifts can be made through bequests, charitable remainder trusts, and pooled income funds. Joining the Cate Legacy Society is the expression of your intention, not a legally binding commitment.
If you have questions, want to get involved, or would like to make a gift, please contact us to schedule a conversation.
The time is now.
The impact is forever.
For Cate and Forever is a wide-reaching and ambitious campaign that offers a multitude of ways in which to engage. We welcome your inquiries to learn more about the campaign and how we can help tailor your support.
Lindsay Newlove
Director of Advancement
lindsay_newlove@cate.org
805.684.4127, ext. 269
"We give because Cate nurtures deep thinkers and compassionate citizens who will thrive and make a positive impact on every community they encounter, whether on or off the Mesa."
MONIQUE PARSONS '84 &
DAVID WECKER P'17,'20,'24 CAMPAIGN CO-CHAIRS
I would like to discuss ways to become involved with the For Cate and Forever campaign.